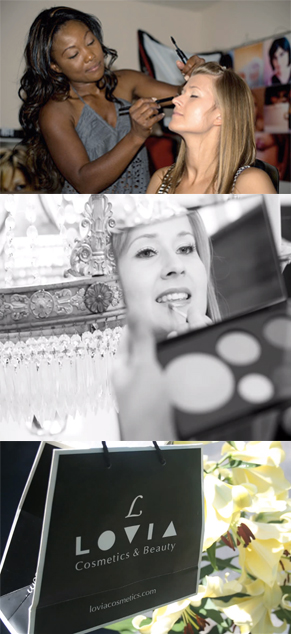 Lovia Cosmetics, which was conceived and developed by Ruth Anglade, offers a full line of cosmetic and beauty products geared towards enhancing the natural beauty of the client at several levels, from skin care treatments through flawless makeup application.  The vision of the line is to offer the client unsurpassed personalized care, to address all present and future needs, and to create an experience that exceeds all client expectations.
In her multi-level experience in the beauty field, she has been heavily exposed to the wants and needs of the client, which has allowed her to identify and anticipate what products and/or services are most desired by the consumer.  This has allowed Ruth to really zero-in on what is missing or needed.  As a result, she has developed a keen sense of foreseeing and therefore exceeding her client's wishes.  Due to this foresight, she has made Lovia Cosmetics a pure extension of her passion for perfection, and one which is very close to her heart.
Ruth has been in the beauty industry as a makeup artist and beauty consultant for more than a decade thus far.  She has worked with some of the finest cosmetic companies in the world, and has done Broadway and Off-Broadway work, NFL, America's Next Top Model, as well as applying her talents as a makeup artist to many individuals on a private basis, amassing an impressive client list.
Ruth, in her many travels abroad, has directed her varied worldly experiences deeply into the essence of Lovia.  She has especially been influenced by European culture—the French in particular.  She speaks the language fluently and throughout her life has cultivated a unique French flare which she has infused into the Lovia product line.  Always astute to the latest trends, as well as what true classic sophistication entails, she has fine-tuned this awareness and made it the center of what Lovia represents.  She has sought out timeless beauty treatments and has put her own unique taste and artistic style into them, resulting in an unparalleled beauty experience for the client.
The mission of Lovia Cosmetics & Beauty is to guarantee trust, integrity, and ultimate services to our customers.
Our principle is unique.   We give Women and Men Eternal Beauty.   We provide unique products that will stimulate your soul and reincarnate your body in a healthy way.
We believe the most effective beauty regimen must be personalized to the unique skincare needs of each client.  Instead of mass-marketing our products in department stores, our direct sales approach provides the individualized attention needed to properly evaluate and custom-tailor a regimen that's best for you, and you alone.